---
A Contract Award Notice is how a public sector procurement officer formally advertises that a contract award has been made. 
All Scottish public bodies must publish their Contract Award Notices on Public Contracts Scotland [1] for contracts valued at £50,000 or above for goods and services (also known as regulated procurements).
Where Can I Find Contract Award Notices?
Contract Notices can be found via "Browse Notices" in Public Contracts Scotland, and then by selecting "Contract Results" as the Notice Type and then selecting "search" as per below: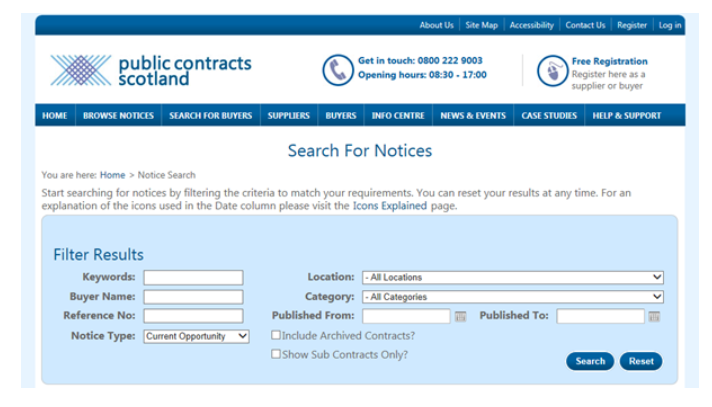 Your search will then provide a list of Contract Award Notices, which you can select and look at in more detail.
The Contract Award Notice is a good source of market information, which can be used to investigate current and likely future contract requirements, as the Contract Award Notice will contain the following information:
Quickfire Guide
Contract Notice Contents
The name and contact details of the lead buying organisation;

If applicable, joint procurement details i.e. the details of the other buying organisations involved;

The type of contract e.g. goods or services;

A description of the goods or services to be purchased;

Whether the contract was split into lots,

The date the contract was awarded;

The scope of the contract, either by value or volume. 

The estimated total value of the contract The procurement procedure that was followed e.g. Open Procedure, Restricted Procedure, etc.;

The criteria against which the contract was be awarded i.e. how it was scored?

Details of the winning supplier(s).
---
Source URL: https://www.supplierjourney.scot/supplier-journey/prepare/understand-market/public-contracts-scotland-pcs/contract-award-notice
Links
[1] https://www.publiccontractsscotland.gov.uk/